Test Lab Facilities
Test Lab: AAU Microgrid IoT Laboratory
The AAU IoT home laboratory is located in Aalborg University, Aalborg, Denmark. It will be used as a demonstration of a home microgrid with smart devices for residential applications.
The Energy Management System (EMS) in addition with the smart devices will allow the user to have full-access to the system´s information, and also provides the user the option to remotely control the system. Smart devices will work and provide valuable information to the EMS as described, to manage efficiently the home microgrid. It is expected that the energy management system together with the smart products will enhance the overall system performance and users experience, reaching new levels of flexibility, controllability, comfort and efficiency.
Ongoing activities
2 kW PV panels and a 2 kW wind turbine are installed on the roof of IoT home laboratory. Electronic appliances (laptops, cellphones, LED lights, home entertainment systems and white goods) are already placed in the living area and kitchen area of the home lab.
Test Lab: ATOS IoT Laboratory
The lab addresses technological contributions in the scope of IoT components, connectivity, platforms and services integration, fostering the usage of open and standard technologies, while also ensuring wider adoption and implementation of the IoT paradigm. The lab is moreover composed by a multidisciplinary technological team targeting embedded systems, sensorized devices, open web technologies and the application of best-practices, agile developments and continuous integration through a self-designed platform and integration services.
Ongoing activities:
ATOS lab could provide a heterogeneous cluster of different ARM platforms managed through an infrastructure and software management system; enabling developers to implement and test easily and simulating production environments
Test Lab: UNIKL Test Laboratory
In order to validate the correct behaviour of the VICINITY in the early development phases, that is before actual deployment in the field, a model-based development process is reasonable. With the Test Lab at University of Kaiserslautern (UNIKL), this will be met to an extent, that "virtual" devices are connected to the VICINITY Server. That way real use-cases can be simulated, analysed and the correct behaviour can be validated before deployment. An overview of the overall structure of the virtual Environment is shown in below figure.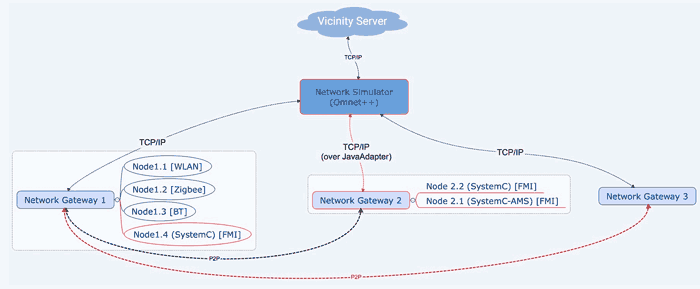 A network Simulator is directly connected to the VICINITY-Server on one side, and to a variety of real and simulated devices on the other side. The devices themselves are communicating via different Network Gateways. They can be pure virtual devices/gateways (marked in red) or real existing ones. Both are integrated seamlessly into the VICINITY, enabling the simulation and evaluation of any possible IoT Scenario. Performance, scalability and runtime behaviour will be evaluated with the ultimate goal of simulating a "virtual Oslo" (see Use case – Intelligent Building System).
Ongoing activities:
Not all devices in the IoT are directly connected to the Internet. For those devices, an IoT Gateway is necessary to establish the connection between devices and the VICINITY (or any Cloud) Server.
Currently UNIKL is evaluating existing hardware- and software platforms for IoT Gateways. A full list of considered platforms is shown in Project deliverable D2.1.
Furthermore, an IoT Developer Survey from April 2016 by The Eclipse IoT Working Group, IEEE IoT and AGILE IoT showed, that the most dominant messaging protocols in existing IoT deployments are HTTP (REST) and MQTT. These will be analysed in terms of scalability and performance in order to evaluate their value and possible use for the VICINITY.
Test Lab: CERTH IoT Laboratory
CERTH Test laboratory comprises the Institute's main offices and a dedicated experimental Smart House. Both buildings are equipped with numerous IoT sensors and automation infrastructure to facilitate the experimentation and test operation of the VICINITY framework at the early stages of its development. In particular:
The offices building comprises of offices where CERTH personnel work and interact during their every-day operations. Most areas are fully equipped with IoT oriented devices and sensors allowing real-time monitoring of environmental, energy and consumption related information, further allowing interaction and control at device level. This building will be the primary test bed infrastructure for the VICINITY platform, allowing valuable information to be extracted during implementation and integration phase, rendering the evaluation and validation processes feasible and more close to real case scenarios.

The Smart House is a real house simulation building where occupants can experience actual living scenarios, equipped with a vast variety of sensors, actuators and smart devices and intelligent robots, being capable to provide an useful test bed for the experimentation of all foreseen use case scenarios of the VICINITY framework.

Ongoing activities:
Different IoT sensors and infrastructures have already been promoted for integration in the Smart House, in particular for the eHealth use case, to be demonstrated in real housed of municipal citizens of the nearby Municipality of Pilea-Hortiatis in Greece.